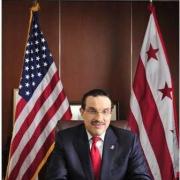 Dear District of Columbia Residents:
Thank you for taking the time to learn about the Fiscal Year 2012 budget process. As the budget cycle moves forward, this website will be one way that my administration will communicate with you about our work. We will also hold community meetings throughout the month of April to explain the process, our priorities, and what changes you might see in city services as a result of the FY2012 budget.
Having a soundly managed and structurally stable budget is one of my top priorities. We are one of many jurisdictions in this country experiencing the after-effects of the financial crisis. For this reason, my administration has spent its first 2 ½ months finding areas where the city can save money and balance the budget. It is important for us to be honest about the city's finances and about this year's challenges.  We will preserve essential services and important investments, but we must also find areas where we can do with less or do without. 
On this website you will find links to last year's budget information as well as a clear summary of how our city's budget works. Through this site you will also have the opportunity to share with us your thoughts and concerns, and I invite you to send us your suggestions about how the city can save money now and in the future.  As we move through the budget process,I invite you to continue visiting budget.dc.gov to learn more about this process.
I thank you for your interest in, and help with, making the District government work well. I look forward to hearing from you.
Yours in Service,

Vincent C. Gray, Mayor
Here are the Budget Hearing Town Hall Meetings in for Ward 7. Please let your voice be heard by attending community meetings.
Ward 7 (North) – FY2012 Budget Briefing
Date: Saturday, May 7, 2011
Time: 9:00am
Location:DeanwoodCommunity Center – 49th andQuarles,NE
Ward 7 (South) – FY2012 Budget Briefing
Date: Saturday, May 7, 2011
Time: 11:30am
Location:HillcrestRecreationCenter –3100 Denver St. SE